Circus Galop is a masterpiece composed by Marc-André Hamelin, a Canadian composer. On the piano this song is pretty much impossible as it requires at least 5 piano experts to play. This song was modded stage by Master Tiles. It's considered an impossible song because it's extremely fast as 10.5 tiles per second and it mostly contains single tiles with double tiles. Additionally it also has a slider tiles and 1 combo tile.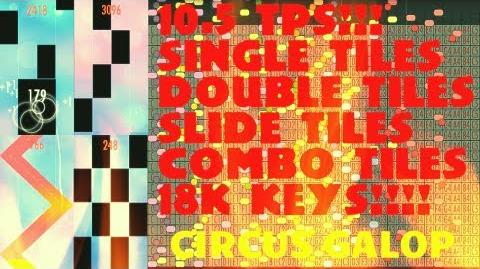 Circus Galop (The Untold Story):
In Beepy's mod, this song is set at its original tempo and it is even faster than Master Tile's version. This song has plenty of single tiles and consecutive double tiles which are extremely difficult to pass. There are very few holding tiles which can help you rest. The song is labeled as IMPOSSIBLE due to these reasons. This song is for experts at piano tiles to challenge their finger agility and see who can actually complete the song. However, anyone can play this song and keep practicing to be able to complete it. Note: You need to be able to pass very fast double tiles and single tiles to complete the song. Using all 3 boosters will help you, but they are not guaranteed to help you complete the song.
Song: Circus Galop
Composer: Marc-André Hamelin
Speed: 12.000 / 12.000 / 12.000
Points per round: 4476
Difficulty: ?(IMPOSSIBLE)
Please Note: Taking breaks from the game are essential as the crazy speed tiles are not good for your eyes and may make you dizzy.