Jingle Bells is the second stage of Piano Tiles 2. It is unlocked when the player reaches Level 2.
Background
Jingle Bells is a famous song sung during Christmas holiday season. It was written by James Pierpont in the autumn of 1857. Although it is now best-known associated with Christmas, it was originally intended for American Thanksgiving. While the publishing date is known, it is unknown where and when James Pierpont composed the melody and music that eventually becomes "Jingle Bells".
Differences
There are not much differences between the original song and the version in the game, except for new piano arrangements.
Gameplay
The chorus section is played first, which is "Jingle bells, jingle bells, Jingle all the way." After the chorus ends, which is when the first star is gained, the verse (Dashing through the snow...) is played. Then, as the music is going back to the chorus section again, the second star is earned. At last, the coda is played after the chorus, and the third star is earned.
The timing of the taps are mainly based on the right hand part, where an eighth note is a single tile, a quarter note or longer is a holding tile, and a rare set of two sixteenth notes is located in double tiles. The double tiles are only present in the verse, and the frequency of holding tiles is moderately high.
Strategy
Before 3-star
The beginning is easy, and it is a great opportunity to earn points. As the melody is very well-known, it is not difficult to follow along the rhythm of the melody to play fluently.

After gaining the first star, the verse of the song starts, and this is the point when the game introduces "double tiles", where both tiles in the same row has to be tapped in order to advance. Afterwards, the game continues to speed up, but the number of holding tiles present makes it easy enough to keep up playing.
Post-3-star
The difficulty of earning three crowns is slightly lower than Little Star once the double tiles tapping is mastered. Due to the abundance of holding tiles, it is easier to sneak some breaks throughout the course.
Trivia
UMod also slower modded by Tastyblacktiles. It is starting song in UMod. Also sound same in official and real jingle bells.
Videos
Classical - Orchestral Arrangement
Jingle Bells Orchestral Arrangement, by Mack Wilberg
Time
Notes
0:00
Orchestral Introduction
0:38
First Verse
0:52
First Chorus
1:23
Second Verse (with modulation)
1:38
Second Chorus (with modulation)
2:14
Coda
Modern - Karaoke Version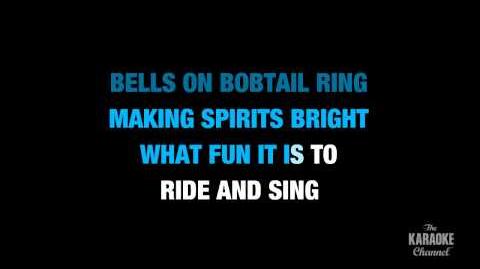 Karaoke Version
Time
Notes
0:09
Chorus starts. Similar to Piano Tile's version, the chorus is played first.