Rondo Brillante Op. 62 is the 334th stage in Piano Tiles 2. It is unlocked when the player reaches Level 112. This song is one of the hardest in the game because the speed of the song, at the C-crown it reaches a speed of 10.87 TPS! (almost 11 TPS) Almost the same speed as Christmas Rhapsody end! World record on this song is 3020 by Robio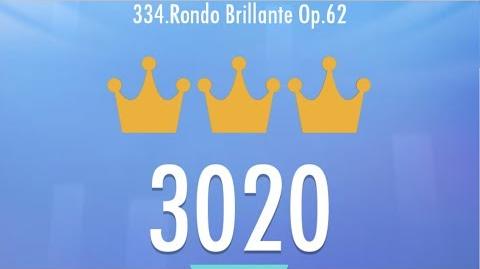 Channel, but very short video though!
Gameplay
This song has a gameplay with many Holding Tiles and some small rounds of Single Tiles and with his 8 TPS at the start is extremely hard to get the C-crown because of the speed but actually it can be easily because of the Holding Tiles but still is a extremely hard song.
Strategy
Before 3 stars
It will be hard to get 3 starts in this song because of the 8 TPS but with a little bit of practice you can pass this without many problems. Play songs with many holding tiles like Polka or Horse Racing so you can practice them.
Post 3 stars
The song gets extremely hard at this point because it starts with a 8.87 TPS speed and for getting the C-crown you need to deal with a 10.87 TPS. It will be extreme to deal with this speeds but some advanced and expert players can do it. Play the Master Challenge or very fast songs like 3 Ecossaises Op. 72 No. 3 or Star Clock to become an expert on fast songs.
Trivia
Videos