This can often be a problem when playing Speed Challenges: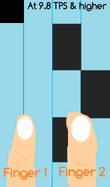 It's hard to tap the tiles on the left side with only one finger when the speed is above 9.8 TPS (for Skilled Challenge at 9.6 TPS, Beginner Challenge 9.3 TPS). See picture. Do you have a tip for that?
Plus, I got 10.844 TPS on Master Challenge today. What do you think?
Community content is available under
CC-BY-SA
unless otherwise noted.