Two Tigers is the fourth stage of Piano Tiles 2. It is unlocked when the player reaches Level 2.
Background
The original folk song is Frère Jacques, a French folk song possibly from the 17th century. Throughout the 20th century in China, it eventually transformed into the title "Two Tigers" (兩隻老虎, Liǎng zhī lǎohǔ), with the same melody, but with different lyrics altogether. It was then spread around China and Taiwan and was better known as this title.
Differences
Between Two Tigers and Frère Jacques, there are no differences outside of lyrics.
As the piano plays the song, there are slight variations in the music each time, totaling of three times.
Gameplay
Assuming the time signature of 4/4, the timing of the taps are mainly based on the right hand part, where an eighth note is a single tile, a quarter note is a holding tile worth 3 points, and any note longer is worth more points. The holding tiles is very frequent before the first star, gradually becomes less frequent before the second star, and becomes nearly dominated by single tiles in the end.
Strategy
Before 3-star
There is nearly no difficulty in the beginning, even though the initial speed can be pretty fast. After getting the second star, be mindful of the consecutive single tiles, and watch out for the off-beat syncopation beats at the end. Be careful of the tiles' position during gameplay.
Post-3-star
While getting the A-crown is simple, it becomes difficult to get B-crown the C-crown when the stage is constantly speeding up.
Videos
Two Tigers (with Chinese Lyrics)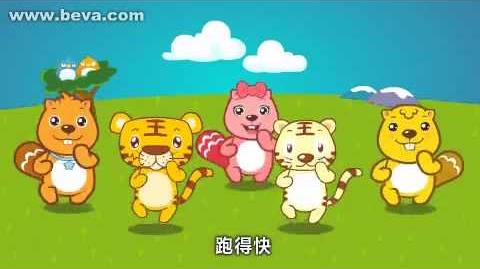 Two Tigers
Time
Notes
0:10 / 0:27

两只老虎,两只老虎,


Two tigers, two tigers,
0:15 / 0:31

跑得快,跑得快,


Runs fast, runs fast,
0:19 / 0:35

一只没有眼睛(耳朵),一只没有尾巴,


One has no eyes, one has no tail,
0:23 / 0:39

真奇怪,真奇怪。


So strange, so strange.
Frère Jacques (French)
Frère Jacques (With round)
Time
Notes
0:10
Frère Jacques, frère Jacques,
Are you sleeping, (x2)
0:14
Dormez-vous ? Dormez-vous ?
Brother John? (x2)
0:19
Sonnez les matines! Sonnez les matines!
Morning bells are ringing! (x2)
0:23
Ding, dang, dong. Ding, dang, dong.
Ding, ding, dong. (x2)
0:45
Whistling starts
1:05
Voices gradually drops
2:00
Resume singing
2:30
In Unison